Share
MY Health Organiser®
Makes it easy to keep track of all your medical information for better and safer healthcare.
Want to be educated, well-informed and be at the centre of all communication about your health?
Want to learn how to achieve the best health outcomes for yourself and those you care for such as children and/or elderly relatives?
Frustrated at losing prescriptions and appointment cards? Have you forgotten what medications you take and details of your medical history?
The My Health Organiser®
Makes keeping your own health records – easier than you think.
It is a specially-designed, expandable, recording and communication system presented in an elegant leather-look binder.
It educates you on how to obtain maximal benefit from consultations with your healthcare practitioners and guides you towards understanding the benefits of BEING HEALTHY by GETTING ORGANISED.
12 top reasons to own a My Health Organiser®
Allows you to keep up-to-date health records at hand whenever you need them. – essential for your optimal healthcare.
Enhances communication between you and your health care practitioners.
Promotes communication about you, between all you health care practitioners.
Supports a whole- person approach to health
Allows you to develop your healthcare team with you at the centre of all communications.
Makes the consultation time with your practitioner more effective because all the appointment time can now be taken up with assessing your concerns. Time spent gathering your health information is not now required. A quick scan of your MHO will tell a health practitioner all they need to know.
Allows a practitioner to make the best decisions on your behalf as they have full information at hand on which to base recommendations.
Saves you money by avoiding having to repeat investigations and tests that have already been undertaken.
Protects you against the risk of treatment errors.
Is a storage device so nothing gets lost; prescriptions, appointment cards, collected health information.
Is a permanent record of advice given to you.
Links with the 12 Pathways To Wellbeing to support you with making healthy lifestyle choices.
It is highly recommended that each person in your care has a My Health Organiser® in their own name. This includes you.
Plastic pockets for the storage of appointment cards, prescriptions etc are included. The binder system allows you to simply add reports and information as required.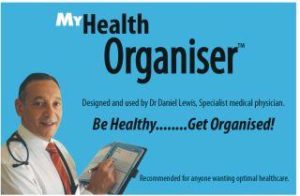 In essence, the My Health Organiser® is an inexpensive investment to allow you to protect and enhance the state of your health and that of others in your care.
KEEPING YOUR OWN HEALTH RECORDS- IS EASIER THAN YOU THINK
What Users are saying about My Health Organiser®
I'm a firm believer in having all my medical information at hand when I have appointments. I think your My Health Organiser is great and will help lots of people.
Sibylle Norris, Knowledge Management Consultant
read more>>>
Use it to connect all your healthcare practitioners. You become CENTRAL to all communication and The My Health Organiser is the means by which all your practitoners are connected. They become your healthcare TEAM!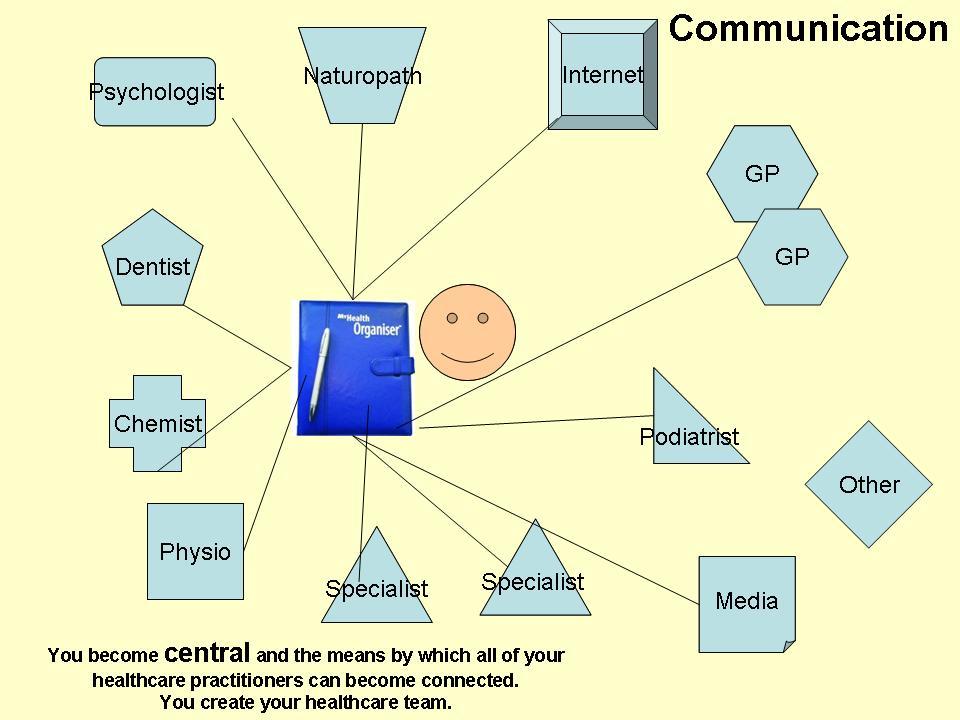 Need More Information?
Click here to read the Foreword to the My Health Organiser by Dr Daniel Lewis.
Click here for more advice on how to use the My Health Organiser® .
How to purchase NOW:
Order Online for $39 incl. GST- receive within 4-5 business days in Australia – this may be a tax deductible health expense, speak to your accountant –
For orders outside Australia please contact us for postage rates office@daniellewis.com.au. Allow 7 days for delivery.
Order by phone: call +61/3 9534 9495 AEST 9am-4pm.