Share
PATHWAYS TO WELLBEING RESOURCE CENTRE MANAGE STRESS AND PAIN MAKE A MEDICAL APPOINTMENT HEALTHeLETTER ONLINE STORE
Make a Medical Appointment
You are here: Home > RESOURCE CENTRE > Medications for arthritis > Drug errors effect 10% of GP patients.
Bookmark and Share
Drug errors effect 10% of GP patients.
Drug errors effect 10% of GP patients.
A review conducted by the National Prescribing Service showed that 10% of general practice patients in Australia reported an adverse drug event in the past six months.
The error rate increases dramatically, up to 25% in those at high-risk.
The Department of Veterna Affairs has advised that 70,000 people each year are admitted to hospital due to medication error.
Poor communication between patients and health practitioners and between health practitioner themselves has been identified as the core problem.
The report indicates that inadequate communication systems were also contributing factors. This data is all the more concerning as there are no monitoring systems in place at the primary care level so these numbers may be an underestimate.
Pharmacists are now doing home medication reviews and consider this to be an important intervention for the prevention of medication errors. Between 40,000 and 50,000 medication reviews were performed annually representing 20% of what is needed. A referral from a GP is necessary for a review to be undertaken.
How to reduce your risk of medication error ?
There is a solution available to everyone and that is to inititiate your own personal medication review. All that is required is it for you to request a medication review by your pharmacist.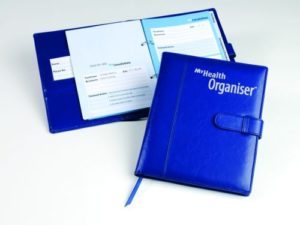 To make this process easier the My Health Organiser ( MHO) has been designed to facilitate such a review. Keeping the Medication and Supplement pages of the MHO up-to-date and showing this to your pharmacist reduces your risk of medication error.
The My Health Organiser is available for purchase online or from a range of outlets.